On the occasion of its 20th anniversary, Biepi renews its brand image and takes the opportunity to take stock of the work done so far. Nicola Prezzamà – founder and general manager – reviews key moments in the company's history and looks ahead to the next 20 years.
The Biepi company was officially founded in February 2003, but our experience in the coffee world has deeper roots.
I have been working all my life in this industry. I started my career at an established Italian espresso machine company as a technical worker, then moved into a sales role until I became marketing manager. When I decided to open my own business, I knew the industry well from many perspectives.
The inspiration for founding Biepi, however, didn't come from the world of espresso coffee but from instant beverages – how did it come about?
Until the early 2000s, there were no alternative hot drinks to coffee in Italian cafés. Sure, one could order tea or hot chocolate, but that kind of drink was ordered on special occasions, when one had time to sit down, mostly in the company of family or friends. Instead, there were no alternatives for a hot beverage to drink over the counter. As much as coffee satisfies many people, there was still a part of the clientele that could not or wanted to drink coffee all the time, and there was thus room to propose an alternative: barley.
At first, it was distributed in pods to be extracted with the espresso machine, but because of the high temperature and the method of extraction, it was not the best way to get good barley. A machine that could dispense this drink automatically was therefore needed. I saw an opportunity in the supply chain and decided to capitalize on it.
What was the first machine manufactured?
It was called OrzoWay, inspired by a chorus of a song that was trending at the time. I started by working on the project with a friend. After the first year of testing, which worked out well because of the network of contacts I had maintained, I decided to turn this idea into a business.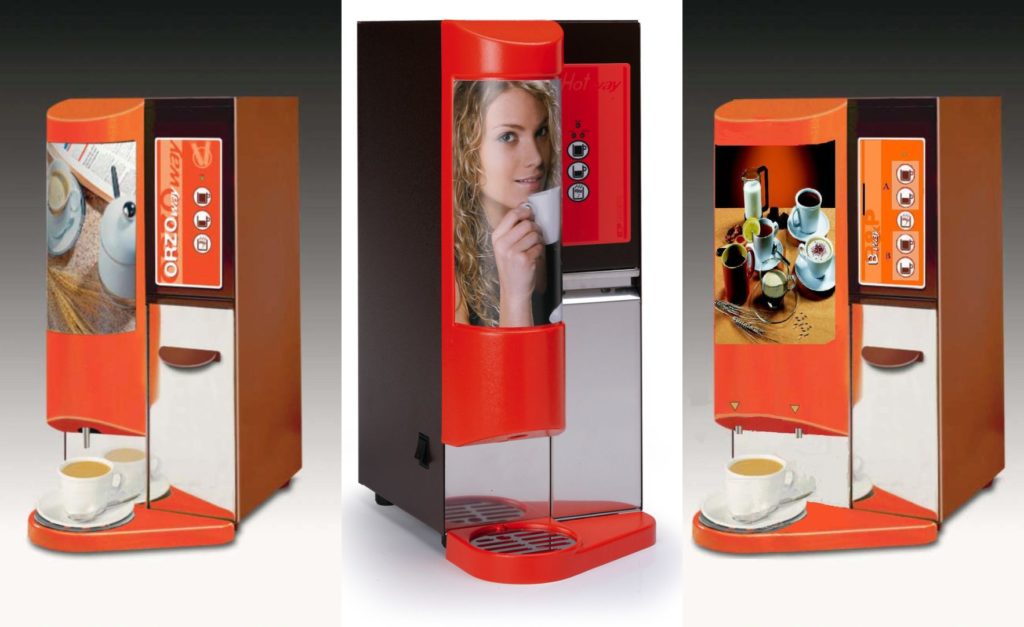 Was there a market for a new small business?
In Italy there are about 250 thousand hospitality venues among cafés, restaurants and hotels, and very few were equipped for soluble barley. In addition, there were very few companies that could meet this demand; every venue was a potential outlet for us.
After 2 years we also began to offer multiple machines that, in addition to barley, could offer ginseng, chocolate and tea, also soluble. For a few years there was plenty of room, then the market began to saturate, and we felt the need to do something else.
Some of the Biepi machines are considered real inventions and are patented.
I always liked the idea of creating new products, of satisfying questions that no one else was answering. Out of this drive came a number of coffee-pod machines, as well as a hot-chocolate machine that we patented and which we're the only ones to manufacture and sell. There were years when we got to sell up to 8,000 soluble machines and 4,000 hot-chocolate machines. At that time, 100% of our sales were in the Italian market.
When did you decide to design and produce commercial espresso machines?
The alternative beverage market was becoming saturated, we needed to do something else, we summoned up our courage and entered the world of professional coffee machines. I say "courage" because we had that idea for a while, but there were already prestigious names in the market, and it was not easy to fit in.
In Italy, we had many contacts to start with, but we immediately looked abroad, where Made in Italy has a very good reputation, especially for espresso coffee. The beginning was slow: in 2014-2015 we designed the first machine and took it to a few trade shows, thus beginning to build a commercial network that could expand. Of course, we struggled because the brand was unknown: we had to prove that the machine was good, convince someone to try it, find a positioning that would enhance the quality of the product and services.
Can we say that the goal of expanding the market abroad has been achieved?
Yes, for the most part: we needed to expand our market share, and our foreign sales went from 0 to 38 percent. We laid a solid foundation to grow in a much larger market than Italy. Now that the range of machines is complete, we can say that we are ready to satisfy many different kinds of customers.
What is the biggest difference you notice in going from the Italian market to the global market?
In Italy, coffee is a habit; it is so much a part of our days that we no longer pay attention to the details. In countries where coffee has come more recently, there is much more attention to product and design.
The World Barista Championships have helped expand the market and have spread an approach where aesthetic is highly important. The baristas who participate become protagonists in these events, have authority, and are highly followed on social media. Coffee is perceived differently, perhaps more spectacularly, but it is still of the highest quality. New generations of enthusiasts are studying and spreading the use of single-origin coffees: Specialty Coffees. The needs of the industry are changing, and we are ready for them: we have always focused on the design of our machines, and we will soon be ready to cover the demands of the Specialty sector as well.
Other than in Italy, where can Biepi machines be purchased?
In Europe, we are present in Germany, the Netherlands, and we work very well in the UK. We are also present in several Asian countries-Vietnam, Korea, Indonesia-and in New Zealand. Our focus has been the Far East and Oceania because there are young and dynamic markets, especially in the coffee industry, so we believe there is a lot of room for growth.
What are the upcoming plans for the future?
Very recently the new Uptown machine came out, and soon we will unveil our new project dedicated to Specialty Coffees that we have been working on for years.
The evolution of our company wouldn't have been possible without my daughter Sara, Biepi's marketing manager. Ever since she joined the company, she has done a great job and revolutionized everything, always keeping a focus on innovation and trends. She allowed us to look towards markets we had not considered, gave value to the brand and put us in the best conditions to compete with prestigious companies. It involved making major but necessary investments. Today we celebrate this first milestone, with the confidence that my experience in the industry combined with her innovative vision will allow us to celebrate many more in the future.